The 2014 NUL top 100.
By Warren S. Hersch, Emily Holbrook.
Statistics can tell a lot, not only about the financial health of companies, but also how they stack up against one another. In this annual feature, we take the pulse of 100 top-ranking life and health insurers when measured against four key metrics: net investment income, total enrollment (health lines only), policyholder surplus and net premiums written.
The report card on the last of these, of particular interest to life insurance professionals, reveals a shake up in the ranks, with a top three insurer in 2012 displacing the formerly number one carrier in 2013. Hence, UnitedHealth Group overtook WellPoint last year in the health segment (all lines); Jackson National surpassed Prudential Financial in the annuities space (individual and group); and Prudential nudged aside MetLife in life insurance net premiums (excepting credit life).
In two market segments — life/ accident & health (except credit); and life (supplemental & other) — the top insurer of 2012 maintained the top position in 2013. The companies: UnitedHealth Group Inc. and TIAA-CREF, respectively.
A comparison of 2012 and 2013 tables also reveals significant variations in net premiums written for individual companies. A prime example is Prudential Financial, which last year garnered $19.2 billion in net premiums, down from the $61.1 billion recorded in 2012.
How to explain so significant a decline? A Prudential spokesperson attributed the dip to two factors: (1) a one-time bump from $30 billion of premium income generated by pension risk transfer transactions concluded with General Motors and Verizon in 2012; and (2) a decrease in gross sales of variable annuities ($11.447 billion in 2013 versus $19.977 billion in 2012).
While these items are "almost certainly the main drivers" for the premium decline, the spokesperson cautions that Prudential cannot take responsibility for the accuracy of data provided by a third party.
The source of the stats: SNL Financial, which bases its figures on the insurers' own filings with the National Association of Insurance Commissioners. SNL Financial's proprietary database — to which NU and LifeHealthPro have privileged access — standardizes financial data using the life and health insurance industries' financial parameters, terminology and performance metrics. The company data is also aligned over time to enable easy comparison of different periods.
With this as background, read on. See how your carriers measure up against the competition. You may be surprised!
See:
http://translate.google.com/translate?hl=&sl=auto&tl=es&u=http%3A%2F%2Fwww.lifehealthpro.com%2F2014%2F05%2F22%2Fthe-2014-nul-top-100%3Futm_source%3DLHPro_NUL_Top100_061214%26utm_medium%3DEmail%26utm_campaign%3DLifeHealthPro_Marketing_Campaign&anno=2&sandbox=1

The top 10 risks facing the insurance industry


By Emily Holbrook
So far, 2013 has not been a banner year for the insurance industry. In fact, some would argue that the couple of decades or so have not been easy on the sector. From grappling with intense competition, an uninterested Millenial geographic, extensive regulation and a continued decrease in revenues, the industry is struggling to ward off the next threat and, according to a recent report from Ernst & Young, there are many to protect against.
"This year's list of top risks and opportunities makes it clear that the insurance sector needs to adjust to a new environment of lower returns on assets and stricter regulation on everything from capital allocation to commission rates and customer care," the report states.
The survey, Business Pulse, identifies 10 top risks for insurers for the remainder of 2013 and through 2015. They are: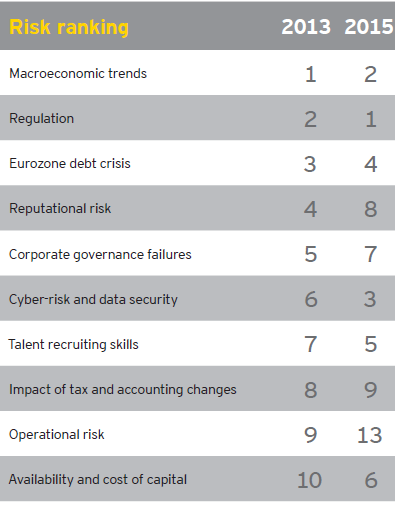 (It's important to note two new additions to the top 10 risks this year: (1) Cyber risk and data security and (2) acquisition and retention of talent.)
As for the number one rated risk, the current macroeconomic environment presents the industry with a broad range of cost pressures. The global financial crisis continues to put a strain on insurers. Adjusting to a slower pace of growth, as insurers' have been trying to do, affects their ability to provide a product with an acceptable ROI and, also, customers' need to purchase coverage.
"Macroeconomic trends pose an overarching challenge because, at present, they tend to distort efforts to identify, differentiate and retain potential new customer groups — hence we see this is as the top risk for 2013," the report states. To deal with the challenging economic situation, "insurers must look to underwriting margins."
In addition, the regulatory climate, both in the U.S. and abroad never ceases to tighten the reins of both small and blue chip companies in the sector. Between Solvency II in Europe and 50 state-level regulators and attorneys general in the U.S., along with the Federal Government, there is no shortage of necessary regulatory compliance. And let's not forget about Asia, where regulation focuses more on regional markets and different regimes, and South Africa, where a handful of regulatory measures are being introduced at, some would say, rapid-fire succession. "In the UK, you would spend 10 years on this and we are doing it all in two or three," said Andre Zeeman, chief actuary at Sanlam, a South African financial services firm.
The report was based on a survey of more than 65 insurance companies across the globe.
Source: Life Health PRO, 28/06/13.