How much is the American Dream for Gen Y?
How much is the American Dream for Gen Y?
By Warren S. Hersch
Most millennial workers identify saving for retirement as their top financial priority, according to new research.
The Principal Knowledge Center, a unit of Principal Financial Group, discloses this finding a survey of Generation Y workers. The research reveals that saving for retirement is the top financial priority of 63 percent of millennial workers surveyed. This is followed by paying off student loans (48 percent) and paying down credit card debt (42 percent).
The survey adds that 80 percent of millennial workers say they have a monthly budget and two-thirds have established an emergency savings fund.
The majority of millennials (58 percent) say Social Security benefits will no longer exist by the time they reach retirement age, while another quarter of those surveyed believe Social Security will be around but with reduced benefits. Even without the help of the government, Gen Y workers (79 percent) feel confident they will be better off financially when they reach their parents' current age.
Almost two-thirds (65 percent) of those responding began saving for retirement at age 25, but 63 percent plan to retire after age 65.
Another 22 percent of Gen Y Respondents plan on retiring between ages 60-65. Though they have started early, 44 percent of respondents have not calculated the amount of money needed to retire or do not have a set goal. For those with a set goal, 34 percent want to save $1 million or more.
To achieve the American Dream, Gen Y workers estimate it will cost $3.1 million in today's dollars. According to Gen Y workers, their version of the American Dream includes being financially secure (77 percent), having freedom (64 percent) and owning their own home (63 percent).
This Principal Financial Group Gen Y study polled 591 retirement plan participants ages 18-34. Those participating in the survey work for a company that currently has a workplace retirement plan with the Principal Financial Group. The study was conducted online within the United States between Sept. 9 and Sept. 18, 2013 among 591 employees. Ages for participants ranged from 18-34.
The following is an infographic encapsulating some of the survey results: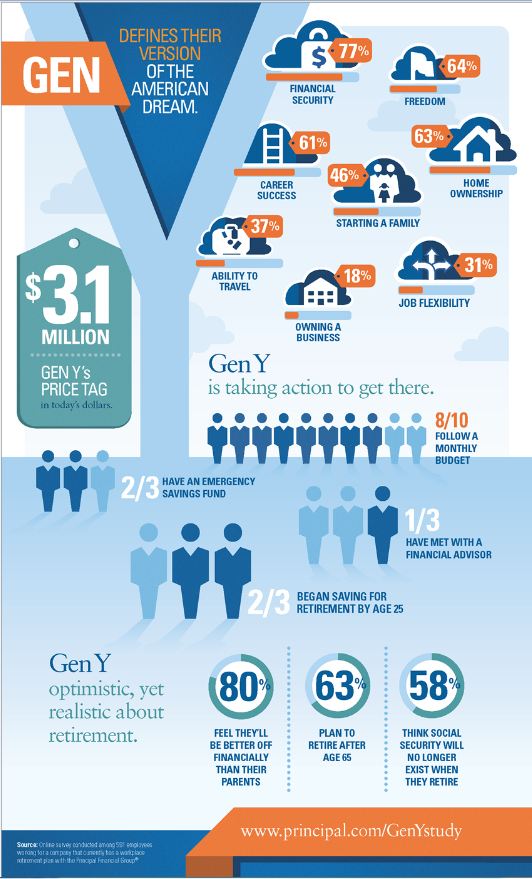 Source: LifeHealthPRO, April 16, 2014.
—————————————————-
— The information provided here is for licensed financial professionals only and is not intended for use in soliciting sales from the public. Trademark and copyright protected, all rights reserved. The views expressed represent the personal opinions of the author, not necessarily those of our Consultancy Firm or its affiliates. Industry references are generic and not intended to represent actions or beliefs of any individual or entity. Content is only presented to illustrate general principles, beliefs or ideas and should not be construed as regulatory advice. —