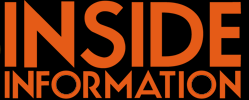 Ex director de Goldman es declarado culpable de usar datos confidenciales
Por Chad Bray, Michael Rothfeld y Reed Albergotti
Un jurado federal de Estados Unidos declaró culpable a Rajat Gupta, otrora ejecutivo y miembro de directorios en la cúspide del ámbito empresarial estadounidense, de uso de información privilegiada, lo cual corona la caída de la figura más prominente atrapada en la campaña del gobierno por detener la filtración de secretos corporativos a Wall Street.
Ex director de Goldman Sachs Group Inc. y Procter & Gamble Co., Gupta fue declarado culpable de tres cargos de estafa y un cargo de conspiración por transmitir información confidencial sobre ambas empresas a un fondo de cobertura (hedge fund) que ganó millones de dólares gracias a sus datos. Fue absuelto de dos cargos de fraude bursátil.
Gupta enfrenta hasta 20 años en prisión por cada cargo de estafa y hasta cinco por el cargo de conspiración. Sin embargo, su sentencia probablemente será reducida en forma significativa bajo pautas federales. La notificación de la sentencia está prevista para el 18 de octubre.
Fuente: The Wall Street Journal, 15/06/12.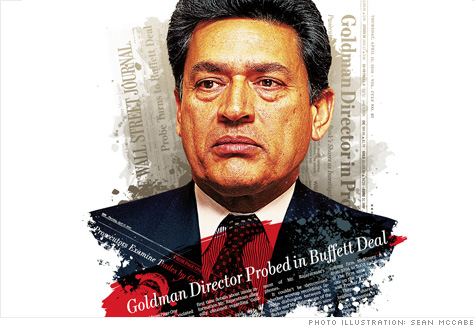 Rajat Gupta
Más información relacionada:
http://www.economiapersonal.com.ar/2011/09/01/goldman-sachs-ofrece-un-menu-para-ganar-con-la-crisis-global/
http://money.cnn.com/2010/09/30/news/companies/rajat_gupta_scandal.fortune/index.htm
Tengo Algo Que Mostrarte...


Traído a ti por Marketing con Éxito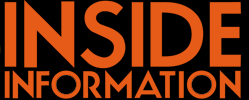 Una acusada clave en el caso de Raj Rajaratnam acuerda pagar una multa de US$540.000
Por Jenny Strasburg
Danielle Chiesi, una ex-operadora de fondos de cobertura (hedge funds) que a principios de este año se declaró culpable de delitos penales en una gran investigación por uso indebido de información privilegiada, aceptó pagar US$540.000 para cerrar el caso civil en su contra con la Comisión de Bolsa y Valores de EE.UU. (SEC, por sus siglas en inglés).
La ex-reina de belleza, de 45 años, era una confidente del fundador de Galleon Group., Raj Rajaratnam, quien fue condenado en mayo por uso indebido de información privilegiada.
Chiesi, que fue detenida por agentes federales en 2009, en enero se declaró culpable de tres delitos penales de conspiración para cometer fraude de valores. La sentencia por sus delitos está programada para el 20 de julio en la corte federal de Nueva York, y se enfrenta a más de tres años en prisión.
Su acuerdo civil se dio a conocer el miércoles en una presentación judicial. Su abogado, Alan Kaufman, se negó a hacer comentarios. Antes había dicho que Chiesi no había traficado personalmente la información que se le acusa haber intercambiado con administradores de fondos de cobertura, entre quienes se cuenta Rajaratnam. Un portavoz de la SEC también se negó a hacer comentarios.
En enero, Chiesi dijo que su declaración de culpabilidad en el caso le provocó un "gran dolor". El hecho impulsó al gobierno a realizar una amplia investigación sobre el tráfico de información privilegiada apuntando a Wall Street y al sector empresario estadounidense. Chiesa, de Binghamton, Nueva York, conoció a Rajaratnam en el verano de 2007, y trabajó con él en el antiguo fondo de cobertura Bear Stearns.
Como parte del acuerdo con la SEC, el gobierno buscó el regreso la devolución de su salario y bonos durante el período que entregó información acerca de las empresas de tecnología. La cantidad que Chiesi acordó pagar representa una significativa porción de su patrimonio neto, según una persona relacionada con el asunto.
Fuente: The Wall Street Journal, 13/07/11.
Más información sobre casos de Inside Information:
http://www.economiapersonal.com.ar/index.php?s=inside+information&x=13&y=9
Más información sobre casos de Conflictos de Intereses en el mundo financiero:
http://www.economiapersonal.com.ar/2011/06/29/el-acuerdo-extrajudicial-de-jp-morgan-y-la-sec/
http://www.economiapersonal.com.ar/2011/06/27/la-crisis-y-los-fraudes-financieros/
http://www.economiapersonal.com.ar/2011/06/06/sino-forest-un-cuento-chino/
http://www.economiapersonal.com.ar/2011/06/02/del-petroleo-al-oro-%c2%bfson-los-especuladores-los-culpables-del-exceso-de-volatilidad/
http://www.economiapersonal.com.ar/2011/05/29/conflictos-de-intereses-goldman-sachs-y-abacus-2007/
———————————————–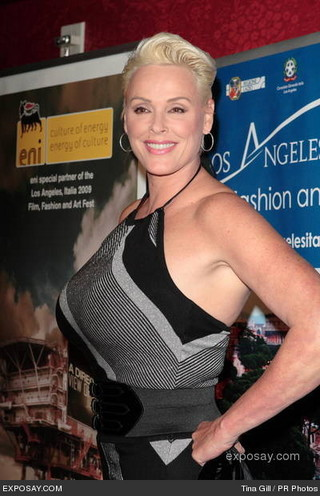 Danielle Chiesi
(Reuters) –
Danielle Chiesi, a former trader who pleaded guilty in the U.S. government's hedge fund insider trading probe, agreed to pay $540,535 to settle related Securities and Exchange Commission civil charges.
According to a court filing, Chiesi will give up $500,000 representing improper gains, plus $40,535 in interest. U.S. District Judge Jed Rakoff in Manhattan approved the settlement on Monday, the filing shows.
Chiesi pleaded guilty on January 19 to three conspiracy counts for participating in an insider trading scheme with onetime co-defendant Raj Rajaratnam, founder of the Galleon Group hedge fund. A Manhattan federal jury convicted him on May 11.
At her plea hearing, Chiesi tearfully admitted to "crossing the line" by leaking tips about such companies as Advanced Micro Devices Inc and International Business Machines Corp. [ID:nN19229868] Recorded conversations between her and Rajaratnam were played at the latter's criminal trial.
Prosecutors are seeking a 37- to 46-month prison term for Chiesi, saying she illegally exploited her Wall Street connections and took "active steps" to avoid getting caught.
But Chiesi's lawyer has asked for leniency, citing the emotional impact of the "toxic relationships" that his client has had with men like Mark Kurland, her boss at New Castle Funds LLC and lover for nearly 20 years.
The lawyer said Chiesi, 45, deserves a shorter prison term than Kurland, who was sentenced to 27 months behind bars after pleading guilty to insider trading last year.
Chiesi is scheduled to be sentenced on July 20 by U.S. District Judge Richard Holwell. Rajaratnam faces sentencing by the same judge on September 27.
The cases are SEC v. Galleon Management LP et al, U.S. District Court, Southern District of New York, No. 09-08811; and U.S. v. Chiesi in the same court, No. 09-01184.
(Reporting by Jonathan Stempel, editing by Gerald E. McCormick and Maureen Bavdek)
———————————————–
Informacion Privilegiada (Inside Information): Se entiende por información privilegiada toda aquella procedente del emisor, que no haya sido dada a conocer al público y que de haber sido difundida, hubiera podido influir significativamente en la cotización del valor o valores que se trate. – Está prohibido el uso de información privilegiada.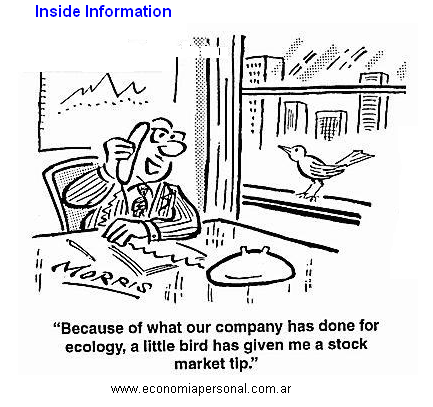 Tengo Algo Que Mostrarte...


Traído a ti por Marketing con Éxito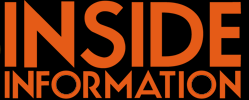 La condena a Rajaratnam le da impulso a otros casos similares
Por Susan Pulliam y Michael Rothfeld
La condena de Raj Rajaratnam es la cresta de una ola sin precedente de casos de uso indebido de información privilegiada que se cree que se acelerarán ahora que la estrategia de usar escuchas telefónicas contra los corredores de bolsa ha demostrado ser un sonado éxito para los fiscales.
Nunca antes ha habido tantos casos de uso indebido de información privilegiada de gran tamaño y desvinculados entre sí presentados ante las cortes por las autoridades.
Tan solo en los últimos 18 meses, EE.UU. ha presentado cargos penales contra 47 gerentes de fondos de cobertura y otros por uso indebido de información privilegiada; Rajaratnam, de Galleon Group, es el acusado número 35 en ser condenado o en declararse culpable.
Con la conclusión del juicio de Rajaratnam, los fiscales preparan una nueva tanda de cargos contra fondos de cobertura, firmas de investigación y ejecutivos corporativos que cree que negociaban con información privilegiada. El mes próximo representa el inicio de otro juicio, esta vez contra los acusados en una presunta red de uso indebido de información privilegiada que estaba conectada con Galleon.
"Este es caso es un hito por cuanto es la primera vez que los fiscales usaron escuchas telefónicas en un caso de uso indebido de información privilegiada", dice el ex fiscal federal Robert Mintz. "Esta condena sin duda alentará a los fiscales, y podemos esperar más de esta clase de casos en el futuro".
El miércoles, un ex consultor externo de una firma de redes de expertos se declaró culpable de compartir indebidamente información no pública acerca de la compañía de tecnología donde trabajaba. Un abogado de Manosha Karunatilaka, gerente de cuenta de Taiwan Semiconductor Manufacturing Co., dijo, "Mi cliente está deseoso de dejar esto atrás".
Es probable que el veredicto de Rajaratnam aliente a Preet Bharara, fiscal federal de Manhattan —quien ha dicho creer que la cultura del uso indebido de información privilegiada está generalizada en Wall Street— a intensificar los métodos de investigación de la fiscalía otrora reservados para casos del hampa y de terrorismo en sus gestiones para procesar de delitos de cuello blanco, dicen abogados.
En un comunicado el miércoles después del veredicto de Rajaratnam, Bharara dijo: "Seguiremos persiguiendo y procesando a aquellos que creen que están por encima de la ley y que son demasiado inteligentes como para ser atrapados".
Entre esos nuevos casos, dicen los abogados, habrá algunos que son parte de una investigación continuada de firmas de redes de expertos. Esas firmas gestionan conversaciones entre empleados de compañías que cotizan en bolsa —que trabajan independientemente al margen de su empleo principal como consultores de inversión— y fondos de cobertura y fondos mutuos que buscan información interna sobre firmas y industrias.
Desde noviembre, los fiscales han acusado a 12 trabajadores de redes de expertos, consultores y empleados de fondos de cobertura en conexión con presuntas filtraciones de información privilegiada. Varias otras personas están siendo investigadas y se espera que se les presenten cargos, de acuerdo con abogados y personas familiarizadas con el asunto.
De hecho, conforme progresaba el juicio contra Rajaratnam, los investigadores se acercaron a operadores de fondos de cobertura que están usando consultores de redes de expertos para exhortarlos a cooperar con su investigación, dicen personas familiarizadas con la situación. Esas conversaciones ahora podrían acelerarse, dicen abogados.
La condena de Rajaratnam "alentará al gobierno a seguir procesando estos casos, y también probablemente alentará a algunos de estos acusados a comenzar a declararse culpables", dijo Mark C. Rifkin, abogado bursátil de Wolf Haldenstein Adler Freeman & Herz LLP.
El veredicto de Rajaratnam es un momento distintivo en la campaña sin precedente del gobierno contra el delito de iniciado en Wall Street y en las entorno empresarial de Estados Unidos.
Pero no todos los acusados están declarándose culpables. Al menos uno de los que está disputando los cargos, Zvi Goffer, apareció en el tribunal federal del bajo Manhattan durante el juicio de Rajaratnam para presenciar el proceso por sí mismo. Otro, Michael Kimmelman, recientemente rechazó una ofrecimiento de condena reducida a cambio de confesión o cooperación que le hizo el gobierno, dijo su abogado.
El juicio de Rajaratnam fue el primer caso de uso indebido de información privilegiada en el cual se reprodujeron para los jurados las conversaciones telefónicas grabadas durante las interceptaciones. Al igual que en ese caso, las escuchas telefónicas han desempeñado un papel en varias otros investigaciones pendientes de uso indebido de información privilegiada.
En el juicio de Rajaratnam, los fiscales hicieron escuchar a los jurados las grabaciones del gestor intercambiando datos con sus asociados y aconsejándoles a algunos de ellos cómo cubrir sus pasos para evadir la detección.
El veredicto podría suscitar dudas a futuros acusados que enfrentan evidencias probatorias similares sobre su capacidad de conseguir una absolución ante pruebas semejantes, dicen algunos abogados.
En otro caso reciente de uso indebido de información privilegiada, los abogados de un operador y un abogado acusados en una presunta trama de 17 años también tendrían que hacer frente a grabaciones hechas por un testigo que ha colaborado con el gobierno, Kenneth T. Robinson, quien ha admitido haber actuado como mediador intercambiando datos y efectivo entre sus allegados.
—Jenny Strasburg contribuyó a este artículo.
Fuente: The Wall Street Journal, 12/05/11.
———————————————————-
Rajaratnam, de Galleon, es declarado culpable
Por Michael Rothfeld y Chad Bray
Un jurado federal declaró culpable al fundador de Galleon Group, Raj Rajaratnam, de 14 cargos de conspiración y fraude de valores, lo que otorga al gobierno de Estados Unidos una victoria significativa en su apuesta por combatir el uso de información privilegiada en Wall Street y en el sector corporativo del país.
El veredicto del jurado de 12 miembros, tras 11 días de deliberación, pone fin a un juicio que acaparó la atención de los medios y que se inició a comienzos de marzo con la presentación de 45 llamadas grabadas que mostraron cómo el ejecutivo de fondos de cobertura traficaba información privilegiada que le entregaba una red de contactos en importantes empresas estadounidenses.
El juicio puso en evidencia las negociaciones tras bambalinas que llevaba a cabo el otrora prestigioso fondo de cobertura que consiguió acceder a información sensible sobre, entre otras cosas, Goldman Sachs Group Inc. en el punto álgido de la crisis financiera. El gobierno calcula que Galleon se embolsó unos US$63,8 millones en ganancias ilegales y pérdidas evitadas con el fraude.
Rajaratnam, de 53 años, no mostró ninguna emoción ni reacción cuando fue leído el veredicto. Después del fallo, siguió en la sala del tribunal y permanecerá en libertad hasta que se dicte sentencia el 29 de julio.
Todos los miembros del jurado se mostraron serios. Cuando el asistente del juez preguntó al jurado para ver si ese era su veredicto, los últimos miembros dieron un "sí" en voz muy alta.
Leila Gorman González, un miembro del jurado, dijo sobre el veredicto: "Había muchas evidencias". Añadió que se sentía "aliviada" de que el juicio se hubiera acabado y declinó hacer más comentarios.
El fallo marca uno de los juicios más notorios de un gigante financiero desde las convicciones de Bernard Ebbers y Jeffrey Skilling, los ex ejecutivos de WorldCom y Enron, respectivamente, en la última década.
En el juicio, se llegó a un punto de inflexión cuando los fiscales reprodujeron una grabación que evidenciaba que Rajaratnam recibió información sobre una pronosticada pérdida trimestral en Goldman –la primera como una compañía que cotiza en bolsa— de un miembro de la junta directiva del banco de inversión, Rajat Gupta, quien en aquellos tiempos era considerado un preciado director.
En el juicio declararon ejecutivos de alto perfil, como el presidente ejecutivo de Goldman, Lloyd Blankfein, que testificó para el gobierno sobre la naturaleza altamente confidencial de la información que Gupta reveló a Rajaratnam.
Blankfein dijo que Gupta violó sus obligaciones como miembro de la junta al compartir información confidencial sobre Goldman con Rajaratnam. Gupta no enfrenta cargos penales. A través de su abogado, negó haber hecho nada ilegal.
Abogados de la defensa argumentaron que Rajaratnam cosechó sus ganancias mediante investigación legítima. John Dowd, el abogado principal de Rajaratnam, trató de minar la credibilidad de los testigos del gobierno.
Rajaratnam, quien había dicho a sus allegados que quería encargarse de su propia defensa, acabó por no testificar. El fundador de Galleon podría pasar hasta 20 años en prisión por cada cargo de fraude de valores y hasta cinco años por cada cargo de conspiración.
Un elemento central en la investigación contra Rajaratnam fue el uso del gobierno de grabaciones ocultas, que registraron cómo el ejecutivo y sus informantes intercambiaron información, así como rumores sobre los socios.
Fuente: The Wall Street Journal, 11/05/11.



El fundador de Galleon Raj Rajaratnam a su llegada a la corte en Nueva York.
Información relacionada: http://www.economiapersonal.com.ar/2011/04/23/inside-information-el-caso-de-kenneth-robinson/
Tengo Algo Que Mostrarte...


Traído a ti por Marketing con Éxito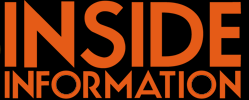 Confesiones de un traficante financiero
Kenneth Robinson abusó de información privilegiada para ganar millones en la bolsa
Por Michael Rothfeld, Susan Pulliam y Vanessa O'Connell
LONG BEACH, Nueva York — Kenneth T. Robinson sabía que tenía que parar. Pero en una entrevista con The Wall Street Journal, dijo que simplemente no podía dejar de negociar acciones basándose en información privilegiada, lo cual es ilegal.
Era septiembre de 2009, 15 años después de participar por primera vez en un presunto fraude multimillonario considerado uno de los casos de negociación de valores con información privilegiada más prolongados en la historia de Estados Unidos. La confabulación mostraba serias grietas: uno de los dos socios de Robinson en el presunto delito, su amigo cercano Garrett Bauer, había comenzado a gastar a lo grande, pagando al contado casas de millones de dólares.
Durante una década y media, dicen los investigadores, el plan funcionó a la perfección. Robinson, un banquero hipotecario, era el intermediario. Recibía pistas sobre fusiones corporativas de un amigo (el abogado Matthew Kluger) y se las pasaba a otro amigo (Bauer, un corredor bursátil), quien compraba acciones en nombre de los tres.
'Desearía que todo hubiera terminado y siguiéramos siendo amigos' . Kenneth T. Robinson, el intermediario en la presunta confabulación para transar acciones abusando de información confidencial.
Este esquema frustró a los investigadores durante años porque no podían determinar dónde obtenía sus pistas Bauer. Los tres hombres recaudaron al menos US$37 millones en el curso de los años, según Judith Germano, fiscal federal en Nueva Jersey.
Pero a finales de 2009, Robinson cometió un error fatal: negoció a nombre propio en vez de hacerlo a través de Bauer. Esa transacción, y otra en 2010 (en la que él y Kluger ganaron la suma relativamente modesta de US$693.000, según los investigadores) ayudaron a las autoridades a atar cabos.
La entrevista con Robinson, realizada el 13 de abril en su casa de Long Island, un suburbio costero de Nueva York, provee una mirada inusual a la mentalidad y la motivación que alentaron el supuesto fraude.
Robinson, de 45 años y padre de dos niños, dijo que nunca pensó que su compra directa de acciones acabaría con sus actividades. "Parecía que no iría a levantar sospechas si no se trataba de millones de dólares".
'Estoy esperando que el FBI aparezca en mi apartamento. Todas las noches ando con los nervios de punta' . Garrett Bauer, amigo que presuntamente negoció acciones a nombre de los otros dos socios basándose en información confidencial.
Involucrarse en el supuesto fraude "fue una estupidez total", dijo Robinson. No necesitaba el dinero, dijo, pero no pudo resistirse.
La semana del 6 de abril, autoridades federales presentaron cargos por fraude de valores, conspiración y obstrucción de la justicia en contra de Bauer y Kluger, que también han sido acusados en una demanda civil interpuesta por la Comisión de Bolsa y Valores de Estados Unidos (SEC).
Robinson se ha declarado culpable de fraude de valores y conspiración. Ayudó a las autoridades a armar su caso grabando secretamente a sus supuestos socios, a quienes consideraba sus amigos.
Su saga es parte de una ofensiva sin precedentes en contra de las negociaciones con información confidencial en Wall Street y el mundo corporativo de EE.UU.
El caso de Robinson ha cautivado a Wall Street porque supuestamente duró mucho tiempo e involucró bastante dinero. Los tres hombres son acusados de traficar con información privilegiada desde 1994 con acuerdos de los que Kluger se enteró a través de su trabajo en una prestigiosa firma de abogados. Los acuerdos incluyeron pesos pesados corporativos, como la compra de Sun Microsystems Inc. por parte de Oracle Corp. y la adquisición de McAfee Inc. por parte de Intel Corp.
'Mientras G se quede callado, y yo me quede callado, y tú te quedes callado, no creo que encuentren nada' . Matthew Kluger, abogado y quien presuntamente pasaba la información confidencial, hablando con Robinson sobre Bauer.
Ni Kluger ni Bauer se han declarado ni culpables ni inocentes. Kluger salió en libertad luego de pagar US$500.000 de una fianza de US$1 millón y permanecerá bajo arresto domiciliario. Bauer también salió libre luego que le impusieron una fianza de US$4 millones. Su abogado dijo que Bauer "está esperando la oportunidad de revisar la evidencia del caso y que entonces tomará decisiones sobre su defensa".
A comienzos de la década de los 90, Robinson y Kluger trabajaron juntos en una firma inmobiliaria y se hicieron amigos. El tráfico de información confidencial tomó forma en 1994, cuando Kluger, entonces estudiante de la Facultad de Derecho de la Universidad de Nueva York, hacía prácticas profesionales en la firma de abogados Cravath, Swaine & Moore LLP, aseguran los fiscales. Allí se enteró sobre una próxima fusión y pasó la información a Robinson, según la demanda.
Kluger sugirió que Robinson encontrara un operador que pudiera negociar acciones a nombre de ellos, según la demanda y Robinson buscó a Bauer, quien había sido su colega cuando trabajaba en una firma de valores, dicen los fiscales.
A medida que sus negocios avanzaban, Robinson y Bauer se convirtieron en muy buenos amigos, mientras que Robinson y Kluger sólo hablaban cuando era necesario y a través de teléfonos públicos y celulares que desechaban inmediatamente.
En 2009, el trío hizo su mayor ganancia, dicen los investigadores. Obtuvieron US$11 millones con la compra de acciones de Sun cuando fue adquirida por Oracle. También ganaron US$8,3 millones al comprar títulos del fabricante de software Omniture Inc., adquirido por Adobe Systems Inc., según la demanda.
Ese mismo año, el estilo de vida de Bauer cambió. En agosto de 2009, pagó US$6,65 millones en efectivo por un dúplex de cinco habitaciones en Manhattan con vista al Central Park, según registros inmobiliarios. Meses después pagó US$875.000 al contado por una casa en Boca Ratón, Florida.
Fue entonces, dijo Robinson en la entrevista, que empezó a preocuparse y le dijo a Bauer "que debía parar".
Si Robinson hubiera seguido su propio consejo, es posible que nunca lo hubieran descubierto. Los investigadores ya sospechaban sobre la legalidad de las negociaciones de Bauer, pero no tenían nada concreto en su contra.
Fue en octubre de 2009 que Robinson recibió la información confidencial que llevó a su caída: Hewlett-Packard Co. iba a comprar 3Com Corp. Robinson —quien dijo que ya había negociado acciones de 3Com por su cuenta— decidió comprar más.
Él y Kluger ganaron casi US$200.000 con esa transacción, según la querella. Robinson esperaba que las operaciones, al no ser de millones, pasaran inadvertidas. Pero alguien notó algo.
Los investigadores ya tenían una lista de allegados de Bauer, que incluía a Robinson, según una fuente cercana al asunto. Cuando Robinson comenzó a negociar antes de acuerdos vinculados a la firma de abogados Wilson Sonsini Goodrich & Rosati PC (donde Kluger había trabajado desde 2005), los reguladores empezaron a sospechar que estaba involucrado con Bauer en la trama, dice la persona.
Funcionarios de la SEC dieron parte al FBI y por más de seis meses esperaron el próximo paso de los sospechosos.
El momento llegó en enero. Bauer compró 1,4 millones de acciones de la compañía de tecnología de video Zoran Corp. con el dato de que pronto se fusionaría con CSR PLC, fabricante de productos inalámbricos. El trío ganó casi US$2 millones con la operación.
Pocos días después, agentes del FBI llegaron a casa de Robinson. Al presentarle las pruebas en su contra, también le dijeron que Bauer había ganado mucho más en el supuesto delito que él y Kluger.
Robinson aceptó ayudar a recaudar pruebas contra sus amigos y el 17 de marzo comenzó a grabar sus llamadas telefónicas, consiguiendo que ambos se incriminaran.
Los fiscales han recomendado una sentencia de hasta 87 meses de prisión para Robinson.
Fuente: The Wall Street Journal, 22/04/11.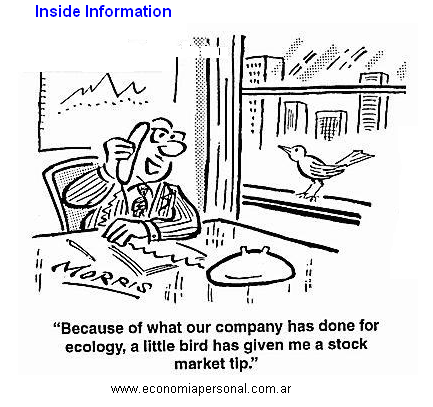 Tengo Algo Que Mostrarte...


Traído a ti por Marketing con Éxito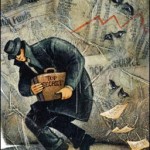 De amigo inseparable a informante del gobierno: una historia de fraude y traición en Wall Street
Por Steve Eder, Michael Rothfeld y Jenny Strasburg
Donald Longueuil y Noah Freeman eran como hermanos. Trabajaban juntos como gestores de dinero en el fondo de cobertura SAC Capital Advisors. Patinaban y salían de vacaciones juntos. Y, dicen los fiscales, usaban indebidamente información privilegiada, también juntos.
Los dos hombres se ayudaron siempre entre sí, dicen los amigos, en momentos difíciles – incluyendo un romance fallido- y en otros buenos. Longueuil fue el padrino de boda de Freeman en 2009 y éste iba a devolver el favor este mes cuando el primero contrajera matrimonio.
Sin embargo, en vez de apoyarlo Freeman entregó a su amigo a las autoridades.
Freeman, de 35 años, traicionó a su amigo grabando secretamente sus conversaciones para el gobierno durante una fase crucial en una extensa investigación de tres años de duración que las autoridades dicen podría eclipsar en alcance cualquier otro caso previo de uso indebido de información privilegiada.
Luego de que el propio Freeman fuera descubierto operando con información privilegiada, aceptó grabar secretamente a Longueuil, de 34 años. Lo atrapó diciendo que había destruido los discos de su computadora con pinzas y arrojado los trozos en camiones de basura por todo Nueva York, dicen los fiscales. Las grabaciones generaron cargos por obstrucción de la justicia contra Longueuil. Los investigadores dicen que los discos tenían evidencia de sus operaciones ilegales con información privilegiada.
El lazo roto entre los dos hombres muestra cómo la investigación del gobierno está intentando dividir los cerrados círculos de operadores que comparten información ilegal sobre inversiones, aducen los investigadores, en un ambiente donde la amistad es clave.
Los dos operadores, junto con un tercer hombre acusado la semana pasada, Samir Barai, formaban un "triángulo de confianza", dijo el fiscal de Manhattan, Preet Bharara, en una conferencia de prensa, compartiendo información de múltiples fuentes entre sí.
Los abogados de Barai, Longueuil y Freeman se abstuvieron de hacer comentarios. SAC, la firma de fondos de cobertura, no ha sido acusada de ningún delito; un portavoz dijo que está "indignada" y que está cooperando con las autoridades.
Entrevistas con alrededor de tres decenas de amigos, parientes, colegas y compañeros de equipo, así información sobre sus registros deportivos, fotos, transcripciones y demandas civiles y criminales presentadas en una corte federal de Nueva York, revelan la profundidad de la relación entre ellos y cómo sus lazos fueron rotos por la investigación del caso de uso indebido de información privilegiada.
Los lazos entre Longueuil y Freeman eran particularmente profundos. Se conocieron por su interés en el patinaje sobre hielo, y ambos compitieron con el Bay State Speedskatin Club del estado de Massachusetts. También esquiaron juntos en los estados de Utah y New Hampshire, dicen sus amigos.
Las mujeres de sus vidas- la novia de Longueuil, P. Mackenzie Mudgett y la esposa de Freeman, Hannah England- también eran amigas, con una historia compartida que se remontaba a cuando integraron el equipo de remo la universidad de Princeton.
Luego de graduarse en la Universidad de Harvard, Freeman trabajó como consultor, entrando al mundo de los fondos de cobertura de Boston en 2001 como analista del negocio de tecnología.
Longueuil se graduó de la Universidad Northeastern y, como su intento de ingresar al equipo olímpico de 2002 en Salt Lake City no tuvo éxito, comenzó a granjearse una reputación como analista del mercado de las comunicaciones inalámbricas.
Fue más o menos en esa época que ambos se conocieron. Durante los siguientes años, los dos hombres estrecharon su relación, manteniéndose en contacto cuando Longueuil se mudó a Connecticut en 2004 para trabajar para Empire Capital, un fondo de cobertura en el que Freeman lo ayudó a conseguir un empleo, dicen personas cercanas a ellos.
Cuando la primera novia de Freeman rompió su compromiso, y su corazón, Longueuil lo ayudó a recuperarse, contó una persona conocedora de la situación.
Freeman confió luego a compañeros de trabajo que no podría haber sobrellevado la situación sin Longueuil. "Necesitaba a Don para que me sacara de la cama esta mañana", dijo en un momento, contó una fuente.
En 2006 Freeman comenzó a salir con England. Las actividades sociales de ambas parejas frecuentemente giraban alrededor de los deportes. England y Freeman competían en triatlones juntos, Longueuil y Mudgett lo hacían en el mismo equipo de ciclismo en Nueva York.
En ese período, Freeman y Longueuil- junto con el tercer hombre, Barai, que en ese momento trabajaba para la división de fondos de cobertura Tribeca Global Management de Citigroup, comenzaron a compartir información privilegiada y a llevar a cabo operaciones con ella, según demandas criminales y civiles presentadas la semana pasada.
Freeman y Longueuil continuaron usando ilegalmente información privilegiada en 2008, dicen los fiscales, luego de incorporarse a SAC Capital.
Freeman lo hacía desde su oficina en Boston y Longueuil trabajaba en Nueva York para la división Intrinsic de SAC CR.
Mientras tanto, Barai, de 39 años, dejó Tribeca cuando cerró y comenzó con su propio fondo de cobertura. Una de sus primeras contrataciones fue un analista que, según la demanda criminal de la semana pasada, lo terminaría incriminando: Jason Pflaum. Los dos hombres se conocían a través de lazos comunes en Wall Street.
El lanzamiento de Barai Capital Management creó un vínculo entre Barai y Pflaum, dicen personas que los conocen a ambos, ya que la pequeña firma tenía pocos empleados involucrados en las decisiones de inversión.
Barai también presentó a Pflaum contactos de los cuales esperaba obtener información privilegiada, incluyendo algunos que supuestamente utilizó cuando estaba en Citigroup.
Una portavoz de Citigroup dijo que esta firma está cooperando con la investigación.
Pflaum escuchó conferencias telefónicas durante las cuales uno de los contactos, una contratista tecnológica de California llamada Winifred Jiau, supuestamente le dio a Barai y Freeman información sobre el fabricante de semiconductores Marvell Technology Group Ltd, de acuerdo con las demandas presentadas la semana pasada.
El gobierno acusó en diciembre a Jiau del delito de proveer información privilegiada sobre empresas que cotizan en bolsa a gestores de fondos de cobertura.
Los abogados de Pflaum y Jiau no quisieron hacer comentarios.
No hay indicios de que Marvell tuviera conocimiento de los supuestos delitos. La compañía dijo que está cooperando con las autoridades.
En mayo de 2008, Freeman transmitió información que no debía ser pública respecto a las ganancias trimestrales de Marvell de Jiau a Longueuil, dijeron los fiscales en documentos presentados ante la corte.
Las autoridades federales dijeron que la firma de Barai ganó US$820.000 con la información y que la firma de Longueuil obtuvo una rentabilidad de US$1,1 millones.
Además de participar en conferencias telefónicas con Freeman, personas que conocen a Barai dicen que cenó con Longueuil en Nueva York prácticamente una vez por mes, compartiendo pasta y vino en un restaurante de bajo perfil en Manhattan mientras discutían ideas sobre inversiones en compañías de alta tecnología, de acuerdo con una persona que los conoce.
Las vidas de estos hombres parecían estar avanzando por la misma trayectoria, marcada por el éxito en sus carreras y sus vidas personales.
Barai fue objeto de un artículo en una publicación del sector de los fondos de cobertura en la que se destacó que superó la adversidad vinculada con su sordera de nacimiento. Longueuil compró un condominio de 120 metros cuadrados, que le costó U$S1,7 millones en el décimo piso de un costoso edificio en el East Side de Manhattan, y Mudgett se mudó con él, de acuerdo con registros inmobiliarios y electorales.
Y Freeman obtuvo un contrato garantizado de SAC a 2 años, por U$S2 millones a los que sumaban el 20% de las ganancias generadas por su portafolio, dijeron fuentes cercanas al asunto.
Se detuvo en el medio de una media carrera Iron Man y levantó una pancarta en la que le preguntaba England si quería casarse con él, de acuerdo con un artículo que detallaba sus logros atléticos.
England no respondió a las solicitudes de comentarios.
Freeman y Longueuil también mostraban un lado fuertemente competitivo, dicen personas que los conocen a ambos.
Miembros de "Team Pyscho" (Equipo Loco), un equipo de triatlón con el que practicaba Freeman, rechazaron la posibilidad de que se convirtiese en miembro porque no siempre apoyaba a otros con lo que el club describe como un "psycho karma" positivo, de acuerdo con un integrante del club.
Longueuil se ocupa mucho de su salud y mantenía una dieta estricta, y se quejaba repetidamente sobre los inquilinos que fumaban en el balcón del piso debajo de su apartamento, de acuerdo con fuentes al tanto.
A comienzos de 2008, la Oficina Federal de Investigaciones (FBI) y fiscales de Manhattan también comenzaron a investigar a Primary Global Research LLC, una empresa de "red de expertos", o sea una compañía que organiza conversaciones entre empresas de inversión y empleados de compañías que cotizan en bolsa que trabajan por su cuenta como consultores.
Los fiscales dicen que Barai estuvo utilizando a Primary Global para obtener información sobre inversiones de esta manera.
Cinco consultores de Primary Global y tres empleados han sido acusados en el caso presentado por el gobierno. La compañía, que no ha sido acusada de algún delito, no quiso hacer comentarios.
Como parte de la investigación, los investigadores han obtenido grabaciones de los teléfonos conectados a Primary Global y sus consultores, incluyendo un empleado de Advanced Micro Devices Inc (AMD), una compañía de semiconductores.
Pflaum recibió información privilegiada sobre AMD del empleado en 2008 y 2009, de acuerdo con fiscales. AMD, que no ha sido acusada de algún delito, no quiso hacer comentarios.
A fines del año pasado, Pflaum se declaró culpable de fraude con valores y conspiración.
En agosto de 2009, Freeman e England se casaron en una ceremonia en Southport, estado de Maine. Longueuil, con un blazer azul, corbata celeste y bermudas de color khaki combinadas con la indumentaria del novio, se paró detrás de Freeman, sonriendo mientras la novia avanzaba. La fiesta, muestran las fotos del evento, incluyó una cena en la casa de la madre de Freeman y una carrera para los atletas que habían concurrido.
Unos pocos meses después, Longueuil y Mudgett celebraron su propio compromiso en resort de esquí en Vail, muestran fotos del viaje. Longueuil le pidió a Freeman que estuviera a su lado en la boda, planeada para el 26 de febrero de este año.
Pronto sus mundos comenzaron a derrumbarse. Freeman y Longueuil fueron despedidos por SAC- Freeman en enero de 2010 y Longueuil en junio de 2010- "por bajo desempeño", de acuerdo con un portavoz. En la segunda mitad del año pasado, los fiscales y el FBI estaban acelerando su investigación sobre el uso indebido de información privilegiada.
El FBI y el fiscal federal de Manhattan no quisieron hacer comentarios.
El empleado de Barai, Pflaum,- al que el FBI se había acercado y que comenzó a colaborar con las autoridades- entregó a la agencia en noviembre archivos de computadora de su laptop y de su desktop en la empresa, así como grabaciones de audio que su jefe supuestamente había hecho con Jiau, de acuerdo con una demanda criminal y personas conocedoras del tema.
Unos pocos días después, al caer la tarde del 19 de noviembre, The Wall Street Journal informó que los fiscales federales estaban llevando a cabo una amplia investigación sobre el uso indebido de información privilegiada que se centraba en Primary Global, entre otras.
De acuerdo con la demanda criminal de la semana pasada, esa parece haber sido la primera vez que Barai se enteró de la investigación. Envió a Pflaum un mensaje desde su BlackBerry en el que decía que había leído el artículo 10 veces, y le decía que borrase sus mensajes de BlackBerry, de acuerdo con la demanda.
Orientado por los investigadores, Pflaum abrió la mañana siguiente la puerta para que su jefe potencialmente se incriminase a sí mismo, escribiendo: "Hey. Los borré. No dormí tan bien la noche pasada. ¿Qué más piensas que debo hacer?".
"Ve a la oficina", respondió Barai, de acuerdo con una trascripción de la demanda del gobierno. "Destruye todo lo que puedas".
Pflaum hizo más preguntas. "¿A quién más le hablamos… que pudieran interrogar?", le escribió a Barai, refiriéndose a los consultores de Primary Global.
Luego de que Pflaum mencionase al empleado de AMD, Barai escribió: "Seguramente (yo) borraría sus notas".
"Pienso que ya las borré", respondió Pflaum.
"Bien", dijo Barai.
Un día después, Barai dijo a Pflaum que dejara su laptop con el portero de su apartamento para que él pudiera recogerla y realizar "un borrado profundo" de sus contenidos, de acuerdo con la demanda del gobierno de la semana pasada.
Barai tomó la computadora y nunca la devolvió. Pero para entonces el FBI ya había visto sus contenidos.
Al día siguiente, el 22 de noviembre, su fondo de cobertura fue allanado por el FBI. Luego fue acusado de fraude con valores y obstrucción de la justicia.
Mientras tanto, Longueuil había entrado en pánico luego de leer el artículo del Journal, dicen los fiscales. Utilizando dos pares de pinzas, destruyó los discos duros en los que el gobierno dice que mantenía información privilegiada, de acuerdo con la demanda de la semana pasada.
A las dos de la mañana, unas pocas horas después de que fuera publicado el artículo, Longueuil dejó su apartamento de Nueva York con otra persona, de acuerdo con la demanda contra él. Caminó veinte cuadras y arrojó los trozos retorcidos de los discos de computadora en cuatro camiones diferentes de basura, de acuerdo con la demanda.
La persona que lo acompañó era su novia, Mudgett, dijeron personas cercanas a la situación.
"Los hechos de la semana pasada han sido personalmente devastadores para mí y mi familia", dijo Mudgett en una declaración emitida a través de su abogada, Suzanne Jaffe Bloom, una socia de Dewey &LeBoeuf LLP. Mudgett no ha sido acusada de ningún delito.
Freeman, como Pflaum, aceptó cooperar con la investigación. A fines de diciembre, Freeman fue provisto por el FBI con un aparato de grabación escondido y visitó a Longueuil en su apartamento.
Durante la reunión, el lunes 20 de diciembre, Freeman intentó al menos cuatro veces que su amigo admitiese que operaba con información privilegiada, de acuerdo con las transcripciones. "¿Ambos lo hicimos, no es cierto?", preguntó Freeman, de acuerdo con las transcripciones.
"Sí", dijo Longueuil.
Freeman luego preguntó a Longueuil si "podría haber un problema" si Jiau describía al FBI la información que les había dado, dice la demanda del gobierno.
Longueuil respondió: " supongo, ¿pero tienen pruebas de que ella nos la dio?".
Los investigadores dicen que las declaraciones de Longueuil en la grabación son evidencia suficiente para acusarlo de obstrucción de la justicia.
El 7 de febrero, Freeman se declaró culpable de fraude con valores y conspiración. Al día siguiente, las autoridades detuvieron a Longueuil en su apartamento de Manhattan alrededor de las 5.30 de la mañana.
En la audiencia de Freeman, los investigadores y un juez dijeron que podría viajar en los próximos meses a Puerto Rico y las Islas Vírgenes estadounidenses, donde planea asistir a triatlones con su esposa, incluyendo la misma carrera en St Croix donde Freeman le propuso matrimonio hace tres años.
Mientras hacía esos planes, Longueuil y Mudgett cambiaron los suyos . Dijeron la semana pasada que estaban postergando su boda.
Fuente: The Wall Street Journal, 18/02/11.
Tengo Algo Que Mostrarte...


Traído a ti por Marketing con Éxito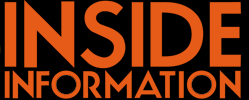 Estados Unidos presenta cargos contra cinco personas por supuesto uso de información financiera privilegiada
Las autoridades en Estados Unidos anunciaron el jueves cargos en contra de cinco personas en relación a la supuesta negociación de valores con información privilegiada, un caso que forma parte de una pesquisa de tres años que ha sacudido al mundo financiero.
Los acusados son cuatro consultores y un empleado de Primary Global Research LLC, una firma de Mountain View, California, en conexión con el supuesto traspaso ilegal de información confidencial.
Tres consultores y el empleado de la firma experta en redes fueron arrestados el jueves por la mañana.
Las pesquisas civiles y penales, informadas en noviembre por The Wall Street Journal y que las autoridades dicen podrían eclipsar el efecto en la industria financiera de otras investigaciones anteriores, examinan si múltiples redes que negociaron activos sobre la base de información privilegiada obtuvieron ganancias de decenas de millones de dólares.
Las investigaciones podrían exponer una cultura en el mercado financiero estadounidense donde persiste la negociación con el uso indebido de información privilegiada. La pesquisa incluye el descubrimiento de nuevas formas en las que la información que no es pública se pasa a operadores a través de expertos con lazos en sectores y empresas específicas, dijeron autoridades federales en noviembre.
Un punto de la investigación penal se enfoca en si la información privilegiada fue entregada por analistas y consultores independientes que trabajan para empresas que suministran servicios de "redes de expertos" a fondos de cobertura y fondos de inversión. Estas compañías programan llamadas y reuniones entre operadores que buscan una ventaja para invertir y ejecutivos actuales y anteriores de cientos de compañías.
Entre las "redes de expertos" cuyos consultores están siendo investigados está Primary Global Research, una firma que conecta a expertos con inversionistas que buscan información sobre el sector de la tecnología y de salud, entre otros
Fuente: The Wall Street Journal, 16/12/10.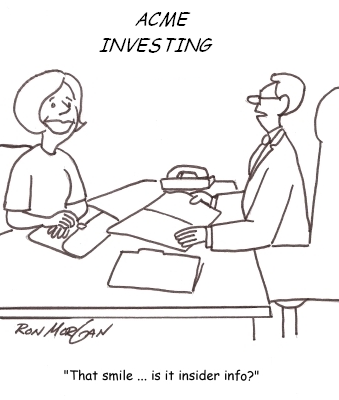 Tengo Algo Que Mostrarte...


Traído a ti por Marketing con Éxito

"National Western Life Insurance Company (NWLI)" Marty Whitman e Insiders son optimistas sobre esta acción
Por Insider Monkey
Martin Whitman es director fundador y Co-Director de Inversiones de Third Avenue Management, que tiene aproximadamente cinco mil millones de dólares de activos bajo gestión. Las Empresas de gestión de activos dedican importantes recursos a la investigación de acciones. A veces, incluso cruzan la línea para tratar de obtener material de información no pública antes de invertir. Otras veces tienen una ventaja porque conocen sus empresas e industrias seleccionadas mejor que casi todos los demás inversores. Creemos que mediante la imitación de la selección de acciones de los inversores más inteligentes del mundo, los inversores tienen más probabilidades de ganarle al mercado en el largo plazo. (leer más: http://www.insidermonkey.com/blog/2011/10/13/marty-whitman-and-insiders-are-bullish-about-these-stocks/#more-6775 )
Fuente: Insider Monkey, 13/10/11.
——————————————-
Más información:
NWL-Annual-Report-2008
NWL-Annual-Report-2009
NWL-Financial-Highlights-2010-09-30
NWL-2010-3Q-Results
NWL-Annual-Report-2010
Análisis-de-Compañía-de-Seguros-NWL-v-2010-12

——————————————-
'National Western Life Insurance Company (NWLI)' Marty Whitman and Insiders Are Bullish About These Stocks
By Insider Monkey
Martin Whitman is the founder, Co-Chief Investment Officer, and Portfolio Manager of the Third Avenue Management, which has nearly $5 billion assets under management. Asset Management firms devote significant resources to researching stocks. They sometimes even cross the line to try to obtain material non-public information before investing. Additionally, corporate insiders have material non-public information and they sometimes trade based on such information. Other times they have an edge because they know their companies and industries better than almost all other investors. We believe that by imitating the stock picks of these smartest investors in the world, investors are more likely to beat the market in the long term. (more… http://www.insidermonkey.com/blog/2011/10/13/marty-whitman-and-insiders-are-bullish-about-these-stocks/#more-6775 )
Posted at October 13th, 2011
Tengo Algo Que Mostrarte...


Traído a ti por Marketing con Éxito
La crisis financiera dejó una bomba de tiempo por falta de liquidez
Por Nouriel Roubini.
NUEVA YORK – Desde la crisis financiera global de 2008 ha surgido una paradoja en los mercados financieros de las economías avanzadas. Políticas monetarias no convencionales han generado un exceso gigantesco de liquidez. Pero una serie de sacudidas recientes sugieren que la liquidez macro ahora está asociada a una severa iliquidez del mercado.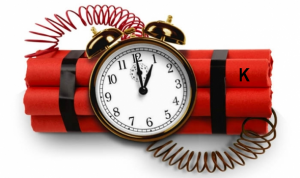 Las tasas de interés promovidas por las políticas están cercanas a cero y hasta debajo en la mayoría de las economías avanzadas, y la base monetaria (el dinero creado por los bancos centrales en efectivo y reservas líquidas de los bancos comerciales) ha aumentado -el doble, triple y cuádruple en los Estados Unidos- en relación con el período anterior. Esto mantuvo bajas las tasas de interés a corto y largo plazo (y negativas, como Europa y Japón), redujo la volatilidad de los mercados de bonos e hizo aumentar precios de activos.
Y, sin embargo, los inversores tienen motivos para preocuparse. Sus miedos comenzaron con el llamado "flash crash" de mayo de 2010, cuando, en 30 minutos, los principales índices bursátiles de Estados Unidos cayeron casi 10%, antes de recuperarse rápidamente. Luego llegó el "taper tantrum" en 2013: las tasas de interés a largo plazo de los Estados Unidos se dispararon 100 puntos básicos después de que el entonces presidente de la Reserva Federal, Ben Bernanke, sugirió su intención de poner fin a las compras mensuales de títulos a largo plazo por parte de la Fed.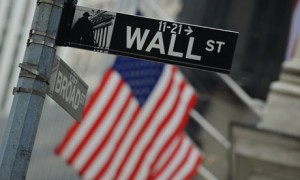 De la misma manera, en octubre de 2014, los rendimientos del Tesoro norteamericano se derrumbaron casi 40 puntos básicos en cosa de minutos, algo que, a criterio de los estadísticos, debería ocurrir solamente una vez en 3000 millones de años. El último episodio se produjo apenas el mes pasado cuando, en espacio de pocos días, los rendimientos de los bonos alemanes a 10 años pasaron de cinco puntos básicos a casi 80. Estos episodios han alimentado los temores de que, incluso mercados muy profundos y líquidos -como las acciones estadounidenses y los bonos del gobierno en Estados Unidos y Alemania- tal vez no sean lo suficientemente líquidos. ¿Qué representa, entonces, la combinación de liquidez macro e iliquidez de mercado?
En los mercados de acciones, los operadores de alta frecuencia (HFT, por su sigla en inglés), que usan programas informáticos con algoritmos para seguir las tendencias de los mercados, son responsables de un porcentaje mayor de las transacciones. Esto crea un comportamiento de manada. De hecho, el trading hoy en los Estados Unidos se concentra en el comienzo y en la última hora de las operaciones diarias, cuando los HFT están más activos; el resto del día, los mercados son ilíquidos, con pocas transacciones.
Una segunda causa es que los activos de renta fija -bonos de gobierno, corporativos y de mercados emergentes- no se negocian en bolsas más líquidas, como las acciones, sino principalmente en mercados extrabursátiles ilíquidos.
Tercero, no sólo la renta fija es más ilíquida, sino que ahora la mayoría de estos instrumentos -que se han multiplicado debido a la emisión vertiginosa de deudas privadas y públicas antes y después de la crisis financiera- se mantienen en fondos abiertos que les permiten a los inversores salir a las 24 horas. Imaginen un banco que invierte en activos ilíquidos, pero permite a los depositantes hacerse de su efectivo en 24 horas: si se produce una corrida sobre estos fondos, la necesidad de vender activos ilíquidos puede llevar su precio a niveles muy bajos en poco tiempo, lo que consiste, en efecto, en una liquidación.
Cuarto, antes de la crisis de 2008, los bancos eran creadores de mercado en instrumentos de renta fija. Tenían grandes inventarios, ofreciendo así liquidez y aplacando la volatilidad excesiva de los precios. Pero con las nuevas regulaciones redujeron su actividad. Esta combinación de liquidez macro y de iliquidez de mercado es una bomba de tiempo. Es el resultado de las políticas para responder a la crisis financiera. La liquidez macro está alimentando períodos de bonanza y burbujas; pero la iliquidez de mercado terminará dando lugar a un descalabro y finalmente a un colapso.
—El autor es profesor de Economía en la Universidad de Nueva York.
Fuente: La Nación, 07/06/15.
——————————————
Flash Crash de 2010
El Flash Crash del 6 de mayo de 2010,1 también conocido como el Crash de 2:45, el Flash Crash de 2010 o simplemente el Flash Crash, fue una caída financiera estadounidense que tuvo lugar el 6 de mayo de 2010 en el que el índice Dow Jones Industrial Average se desplomó cerca de 1000 puntos, aproximadamente un 9%, para recuperar esa pérdida escasos minutos. Fue la segunda mayor caída en puntos, 1,010.14 puntos,2 y el mayor desplome diario, 998.5 puntos, en una base intradía en la historia del Promedio Industrial Dow Jones.3 4 5
Evento
El 6 de mayo de 2010, los mercados de valores de Estados Unidos abrieron con caídas y se mantuvieron bajistas durante la mayor parte de la jornada como consecuencia de la preocupación existente en el mercado por la crisis de deuda en Grecia. A las 14:42, cuando el índice Dow Jones acumulaba una caída de más de 300 en el día, el mercado de valores comenzó a caer rápidamente, bajando en más de 600 puntos en 5 minutos hasta alcanzar una pérdida de cerca de 1000 puntos en el día hacia las 14:47. Veinte minutos más tarde, hacia las 15:07, el mercado había recuperado la mayor parte de los 600 puntos de caída.6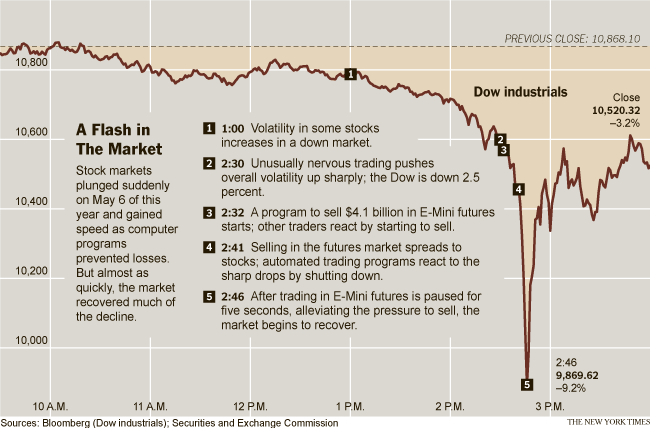 Véase también
Referencias (en orden, 1 a 6)
Fuente: Wikipedia, 2015.
————————————
Breakdown: A Glimpse Inside the 'Flash Crash'
Adapted from "Dark Pools: High-Speed Traders, A.I. Bandits, and the Threat to the Global Financial System," to be published by Crown Business, a division of Random House, Inc. on June 12. ©2012 by Scott Patterson.
The chaotic listing of Facebook Inc. on the Nasdaq stock market last month was the latest example of how computer-trading systems can go haywire. The social network's botched IPO came hard on the heels of another embarrassing glitch. In March, BATS Global Markets, a computer-driven exchange, failed to list its own stock due to a software bug.
Mishaps such as these are damaging the confidence of small investors in the integrity and reliability of stock markets, critics say.
The root of retail investors' end of the love affair with the stock market can be traced back to May 6, 2010, the day of the now-infamous "flash crash."
In the space of a few, hair-raising minutes, a breakdown in the market triggered by failures in computer-trading systems across the country caused stocks to plunge about 10%. Despite extensive probes by regulators, the cause of that sudden crash remains a mystery.
The flash crash left a scar on the market. Investors have taken money out of the U.S. stock market funds in 17 of the 25 months since then, withdrawing a net $137 billion, according to Lipper.
Panic Ticks
Thomas Peterffy had seen it all. The Black Monday crash of October 19, 1987, the 1998 collapse of the giant hedge fund Long-Term Capital Management, the implosion of the dot-com bubble in 2000 and 2001, the credit crisis of 2008.
But what was unfolding on the afternoon of May 6, 2010 was different. This was fast. This was high-speed trading.
The founder of Interactive Brokers Group Inc. and Timber Hill, a sophisticated computer-driven trading operation, was monitoring the market from a private study on his luxurious estate in Greenwich, Conn.
Chaos was breaking out amid a burst of riots on the streets of Athens, Greece. Stocks had been on their heels all day. But now things were getting much worse. Down about 2% at 2:30 p.m. Eastern, the market had started to plunge rapidly.
Mr. Peterffy picked up the phone and called Timber Hill's trading desk, several miles away in downtown Greenwich.
"What the heck is happening?" he said.
"Don't know," a rattled trader replied.
"Well find out!" Peterffy shouted.
As the Timber Hill traders scrambled to find the cause of the problem, they started seeing a wave of "panic ticks" on their screens—warning signs indicating that their positions were moving so rapidly that they were risking big losses.
By 2:40 p.m., the number of panic ticks exploded. Mr. Peterffy called the trading desk again to see if anyone knew what was happening.
No one did.
Tradebot
In a bland, cube-shaped building on the outskirts of Kansas City, Dave Cummings watched from his corner office as the stock market unraveled like a ball of yarn.
The founder of Tradebot Systems, one of the world's most advanced high-frequency trading operations, wasn't sure what to make of the downward draft. The heavy volume was scrambling trading systems, leading to disparities in prices quoted on various exchanges. The decline became so sharp that it made Mr. Cummings worry that it wasn't going to right itself.
Like many others, he worried that a "fat finger" mistake by a trader—Wall Street slang for someone who pressed the wrong button or put too many zeros into a sell order—had triggered a cascade that was turning into a vicious feed-back loop.
If there was an erroneous trade, that meant Tradebot's systems, which tracked all corners of the market for signals about future conditions, were operating on bad information. If Tradebot kept trading, it might spread the turmoil elsewhere, like a contagious virus.
Digitalized and Decimalized
As the stock market plunged, then Senator Ted Kaufman (D., Del.) was presiding as chair of the Senate. A wave of chatter rippled through the chamber as the senators, clicking on their handheld devices, stared in amazement at news of a major crash in the stock market.
Mr. Kaufman had been one of the fiercest critics of the computer-driven machines that had taken over the market. But he never thought he would see anything like what had just occurred.
Addressing his colleagues from the floor, he explained how the market had shifted from a floor-based system to one that was "digitalized and decimalized."
"People came into the market and began to develop these high-speed computers," he said. "Human beings were no longer doing the trading, computers were. They developed these algorithms. It ran automatically. It grew and grew. There is no way to know what is going on. No one knows what is happening in these exchanges when this trading is going on. We have a very dangerous situation."
Pools of Darkness
In the weeks and months following the flash crash, a fierce debate erupted over what had become of the stock market. Angry words were exchanged in the halls of Capitol Hill, on financial television shows and at trading firms in New York and Chicago.
Congress held panel discussions. The Securities and Exchange Commission grilled the previously unknown chieftains of the high-speed merchants, including Mr. Cummings of Tradebot and Mr. Peterffy of Timber Hill.
The complex, labyrinthine nature of the market vexed ordinary investors. Years ago, before the rise of electronic networks, most trading took place at the New York Stock Exchange and Nasdaq.
BY 2012, trading occurred in roughly seventy different venues, including giant hedge funds and banks. So-called "dark pools," private markets in which trading took place away from public exchanges such as the NYSE, accounted for more than 10% of all U.S. stock trades, according to Tabb Group.
As the markets slid into discrete pools of darkness, investors, too, had been left in the dark.
Fuente: The Wall Street Journal, 2012.
.
Tengo Algo Que Mostrarte...


Traído a ti por Marketing con Éxito
Big Hair on Campus.
By William D. Cohan.
Did Donald Trump defraud thousands who paid up to $35,000 to learn his real-estate investing skills at the now defunct Trump University, as New York attorney general Eric Schneiderman charges? Or—ahem—is Schneiderman, in cahoots with President Obama, out to get Trump?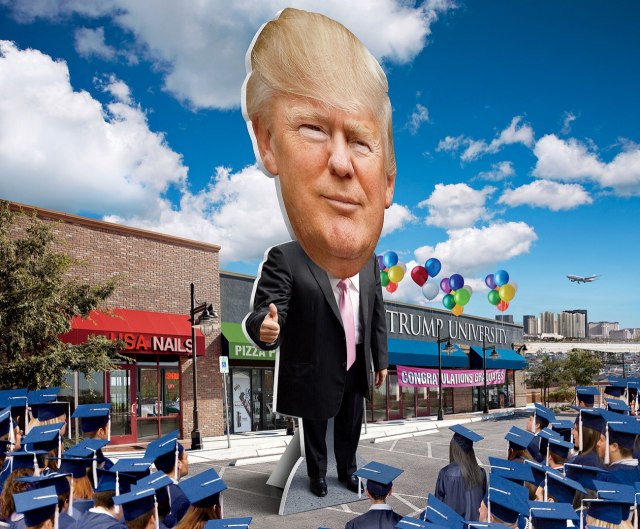 TRUMP L'OEIL "I got a picture of myself with a Trump cutout and … little else," says Bob Guillo, who paid $35,000 for seminars.
Donald J. Trump has 2.43 million followers on Twitter, making him the 670th most followed person in the global Twitterverse. Last fall he was sandwiched there between Lonny Rashid Lynn Jr., better known as the Chicago-born hip-hop artist Common, and Alejandro Fernández, or El Potrillo, the Mexican singer.
The Donald likes to tweet about his many triumphs and to re-tweet exhortations for him to run for president and save the country. On October 29, he re-tweeted a boast from his daughter Ivanka—who has more than 1.5 million followers—that the yet to be completed Trump International Golf Club, in Dubai, was voted by the International Property Awards "the Best Golf Development in the Middle East." That same day, he revealed that his Virginia winery had been awarded the "coveted" Virginia Double Gold Medal.
One project The Donald isn't crowing about on Twitter—or anywhere else, for that matter—is the public-relations problem known first as Trump University and then as the Trump Entrepreneur Initiative, his effort to teach the great unwashed (for as much as $35,000 a head) his vaunted investing techniques. If Eric Schneiderman, the New York attorney general, is to be believed, this particular (now defunct) Trump enterprise was nothing short of out-and-out fraud. Touré, a host of The Cycle on MSNBC, appears to agree. He tweeted to The Donald, "Why did you rob all those Trump University students out of their money?"
Schneiderman thinks that's a good question, and he wants a good answer. Last August the attorney general's office filed suit against Trump and his associates for more than $40 million in New York State Supreme Court, claiming that between 2005 and 2011 they "intentionally" misled "over 5,000 individuals nationwide," including some 600 New York State residents, who paid to "participate in live seminars and mentorship programs with the promise of learning Trump's real estate investing techniques." Schneiderman asserted that Trump personally made about $5 million from the endeavor—although Trump said he intended to donate any profits to charity. (Now he says that between legal fees and refunds no money is left to do so.)
At a press conference announcing the suit, Schneiderman claimed that "Mr. Trump used his celebrity status and personally appeared in commercials making false promises to convince people to spend tens of thousands of dollars they couldn't afford for lessons they never got."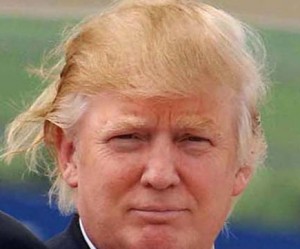 Trump wasted little time in responding, hitting the airwaves to call into question Schneiderman's character—he's a "political hack," Trump told Fox & Friends—and his motivation for filing the suit. Trump claims that Schneiderman cooked up the lawsuit after visiting with President Obama—the target of much of Trump's political ire (recall Trump's birther non-bombshell)—in upstate New York. They met on a Thursday and Schneiderman filed the lawsuit that Saturday, leaving Trump incredulous. "It's a helluva coincidence," he tells me. "You meet and then you immediately file a lawsuit and the lawsuit is filed not on a Monday or Tuesday but on a Saturday?… I've had a lot of litigation. I have never heard of a lawsuit being filed on a Saturday."
Schneiderman responds, "I assure you I have many more important things to talk to the president about than the fact that we busted this penny-ante fraud… [Trump] seems to be the kind of person who goes to the Super Bowl and thinks the people in the huddle are talking about him." As to why the suit was filed on a Saturday, Schneiderman says that Trump and his attorneys asked him to hold off until the weekend, allowing Trump to leak in advance his side of the story to the Saturday editions of the New York Post and The Wall Street Journal and "to whip up this strange Web site attacking me."
Trump says Schneiderman came to him hat in hand for a campaign contribution in 2010, when he was thinking about running for office. On one of the three visits that Trump alleges Schneiderman made, Trump gave him $12,500: "He said, 'Can you fix me up with some people?' I set him up with people. Now you can make the case 'Isn't that wonderful that there's somebody who helped him that he'll screw.' But you could also say he's a real disgusting human being."
Trump elaborated in a recent letter to Graydon Carter, the editor of Vanity Fair: "He wanted to settle and I didn't… During settlement negotiations, he was asking for campaign contributions. He's a sleazebag and a crook who is driving business out of New York City." To Trump's charges, Schneiderman responds, "The fact that he has a larger megaphone than most fraudsters is what gets all the attention here, so I would expect that he would attempt to distract the court, unsuccessfully…. It is true that he did not support me in the Democratic primary when I ran in 2010, and, after I won the primary, he gave me one contribution, which is the only contribution he has ever given me."
Schneiderman fought back with an opinion piece in the Daily News, as well as with numerous TV appearances. "Trump has answered with outlandish accusations," he wrote. "That's not surprising for a showman who has built a career around bluster and hype. But I am not in the entertainment business; I am in the justice business." He conceded that Trump could have settled the case—as another for-profit school did for $10 million—"or answered the charges in a dignified manner through his attorney. Instead," the attorney general continued, "he chose to try the case in the press."
'I went to the Wharton School of Finance," Trump says. "I have a great feeling for education and for knowledge and learning… I love the idea of helping people, because I've had a lot of experience with real estate, to put it mildly."
Trump and his associates Michael Sexton and Jonathan Spitalny formed Trump University as a limited-liability corporation in 2004. The original business plan was to focus on long-distance, Web-based learning, but they would also be "experimenting" with offering "live instructional programs" to paying customers, according to Sexton's subpoenaed deposition.
The following spring, the New York State Department of Education sent letters to both Trump and Sexton notifying them that Trump University was in violation of state law by calling itself a "university" when "it was not chartered as such" and because it had not been properly "licensed" by the state.
In a series of follow-up conversations and e-mails between Sexton and Joseph Frey, then a state education official, Frey explained that Trump University could avoid the "licensure" provision of the state law if it were to re-incorporate outside of New York State and if it ran no physical seminars in the state. But "Trump University failed to abide by any of these conditions," the attorney general wrote.
Schneiderman claims the "university" continued to use 40 Wall Street—one of the few buildings in Manhattan that Trump actually owns—as its principal corporate address, including in numerous advertisements. It furthermore conducted "at least fifty live programs in New York between 2006 and 2011." Schneiderman noted that "Trump University LLC" was finally renamed, on May 20, 2010, "The Trump Entrepreneur Initiative LLC."
In his deposition Sexton admitted that the failure to comply with the stipulations was "an oversight" and something he and Trump "forgot" about.
Also misleading, according to Schneiderman, were the claims made in Trump's advertising. In one, published in 2009, Trump looks resplendent in a blue suit while standing in front of one of the buildings that bear his name—but not his ownership—on Manhattan's West Side. "Learn from Donald Trump's handpicked experts how you can profit from the largest real-estate liquidation in history," the ad promises. (He was presumably not referring to the Chapter 11 filings of the three highly leveraged hotel and casino properties he once had a stake in.) The ad pronounced Trump "the most celebrated entrepreneur on earth. He's earned more in a day than most people do in a lifetime… And now he's ready to share—with Americans like you—the Trump process for investing in today's once-in-a-lifetime real estate market."
This was followed by a quotation from The Donald: "I can turn anyone into a successful real estate investor, including you."
Schneiderman argues that Trump University's advertisements, Web site, and promotional materials were just an elaborate ruse. The initial "free seminars," according to the lawsuit, were "the first step in a bait and switch to induce prospective students to enroll in increasingly expensive seminars starting with the three-day $1495 seminar and ultimately [for] advanced seminars such as the 'Gold Elite' program costing $35,000."
"We're going to have professors that are absolutely terrific—terrific people, terrific brains, successful, the best," Trump claimed on videos shown at the seminars. "We're going to have the best of the best. And honestly, if you do not learn from them, if you do not learn from me … then you're just not going to make it in terms of the world of success."
That was good enough for June Harris, of White Plains, New York, who had previously taken an online Trump real-estate investing course and found it useful. After the free June 2009 session at a hotel in Stamford, Connecticut—where participants were told to keep $1,000 in their pockets at all times as "a confidence builder for wealth"—Harris signed up for the three-day seminar, which cost her $747.50. She spent the weekend of June 19 at the seminar, where she was encouraged to call her credit-card company and increase her line of credit. "They said that we should invest in property without ever touching our own assets," she wrote in a September 2012 affidavit. "The instructor said if we surmounted the fear of losing money then we would actually make money."
She was then encouraged to sign up for the "Trump Gold" mentorship program—at a cost of $35,000—described as a yearlong group of seminars and private consultations with Trump instructors. When Harris declined, "The agent was very upset and quickly hung up the phone on me," she wrote in her affidavit.
Bob Guillo, from Manhasset, New York, and his son, Alex, fell hard for the Trump line. After the free seminar and the three-day course costing nearly $1,500—and which he graded as "excellent" in his evaluation—Guillo signed up for the Trump Gold Elite program and paid nearly $35,000. He was told he would be part of a select "in-the-know group" and among "insiders" who would have access to proprietary real-estate deals. "For example," Guillo wrote in an affidavit, "where Mr. Trump would be involved in building condominiums, we would get first choice at purchasing an apartment and then would be able to immediately sell it at a profit."
Guillo wrote that at the first day of the Trump Gold Elite program he "began to realize I had been taken" because the information conveyed seemed to be coming from Zillow.com, a real-estate Web site, or from the I.R.S. Web site. In August 2011, Guillo wrote George Sorial, an assistant general counsel in the Trump Organization, to request a refund. But he never got his money back. Instead, "Trump staff promised to set me up with their best mentor," Guillo wrote. He declined the offer. He just wanted his money back.
Guillo, now 74 years old and a retired legal-document processor, says he attended every one of the seminars his $35,000 bought him and at every one the Trump instructors did the same thing. "They tried to solicit more money from us," he explains. "I got a picture of myself with a Trump cutout and basically very, very little else."
Trump is unmoved by the people who have complained. He and his legal advisers set up a Web site, 98percentapproval.com, which contains video testimonials from satisfied customers, as well as more than 10,000 attendee surveys, many of which give Trump top marks. "It's like Harvard," Trump tells me. "You know Harvard doesn't have a 98 percent approval rating." Alan Garten, an executive vice president of the Trump Organization and litigation counsel, interjects, "When you take into account the fact that the attorney general's been looking at this case for what, two-plus years, 46 [negative] affidavits is [nothing]."
Trump quickly picks up on Garten's observation. "Of those 46," The Donald says, "most of them have signed a letter saying how great it was… They complained that they weren't given refunds, except they were."
What about Bob Guillo, who has not received a refund? "I had many conversations with Bob Guillo," says Sorial. "He could not articulate one thing that was wrong with the course. And I just got the impression that this was a guy who read about this frivolous lawsuit and was saying, 'Hey, look. I'm going to try and get some money back.' Especially because he signed up for multiple courses in multiple years, and had multiple, very positive evaluations."
Schneiderman is not persuaded by such arguments. "All the promotional materials, many of which featured Mr. Trump, made numerous false statements," he explains. "He never 'handpicked' experts to teach people. These people weren't experts. They weren't even certified as teachers by the state of New York. They didn't learn any real-estate secrets from Trump, because he never participated in developing the curriculum." (Trump says he personally reviewed the résumés of many but not all of the teachers.)
Trump is especially miffed that he is being tarred as a fraud. "I really did this because I thought we could really help a lot of people, and we did help a lot of people." He is determined to make the attorney general pay politically for his accusations and says his legal response "will blow Schneiderman out of the water."
Schneiderman responds, "I have no idea how he thinks his strategy is going to work." He adds, "The lawyers in my office are going to pursue it. I am quite confident we're going to prevail, and the rest of it is just distraction."
Source: Vanity Fair, January 2014.
Tengo Algo Que Mostrarte...


Traído a ti por Marketing con Éxito
The Bad Brunch – National Underwriter's 2013 Rogue's Gallery
The life and health insurance industry, as we've seen in 2013, has had its own share of general business problems, aside from any man-made issues such as acts of fraud or a failed website. Like an unsuspecting outlier out to harm an industry working for the physical and financial health of society, these Rogues — either intentionally or unintentionally — have caused some of society to form a different view of an industry constantly trying to better its reputation.
By Emily Holbrook, Bill Coffin, Allison Bell, and Warren S. Hersch
Artwork by Tim Foley Illustrations
James A. Guest
James A. Guest, the CEO and president of Consumer Reports, was an insurance commissioner in Vermont back in the 1970s. At Consumer Reports, he's been part of an organization that's pushed for tough insurance product and insurance sales practices standards for decades.
Guest has earned a spot on the list for being a representative of some of the groups that claim to speak for consumers but lost their tongues when federal officials did a questionable job of implementing the Patient Protection and Affordable Care Act (PPACA) programs.
This year, Consumer Reports' lobbying arm, Consumers Union, along with other advocacy groups, have lobbied hard against imposing tough training or disclosure standards on "their reps" — PPACA exchange navigators.
Consumers Union told the Obama administration in May that federal agencies should set uniform navigator standards; that navigators should not get paid by agents, brokers or stop-loss insurers; and that the U.S. Department of Health and Human Services should "actively monitor and intervene, as necessary, to ensure that state licensing, certification and other requirements do not interfere with navigators' abilities to fulfill all of their legal responsibilities."
We thought of comparing the Consumer Reports stance on navigators with its approach to the sudden, nightmarish curtailment of PPACA Preexisting Condition Insurance Plan benefits that took place earlier this year. In other words, the shafting of consumers who are in the middle of getting organ transplants.
We looked for some policy statement expressing Consumer Reports' or Consumers Union's outrage toward this and found a February brief urging individuals to "Act fast to get this health reform benefit." No expression of outrage, not even an expression of mild sorrow, just advice to those slowpokes with iron lung machines to move it with the paperwork already.
Hugh R. Hinsinger, Jr.
Hugh R. Hinsinger, Jr. worked as a financial advisor and was entrusted with many clients' finances, including those of his parents. But Hunsinger, 49, of Pine Brook, New Jersey, was not interested in his fiduciary responsibility. Greed was the only thing on his mind.
In August, Hunsinger pleaded guilty to second-degree theft by unlawful taking after it was revealed that he defrauded his parents out of more than $1.3 million while serving as their financial advisor.
According to the Financial Industry Regulatory Authority, Hunsinger told his parents that he was selling securities they owned to invest in new insurance or securities products. Instead, Hunsinger deposited the funds into bank accounts he controlled. The complaint also alleges that Hunsinger recommended that his parents invest in a deferred combination variable and fixed annuity. Hunsinger, formerly of Lincoln Financial Advisors Corporation, provided his parents with documents that contained information, based on a historical illustration, concerning withdrawals, contract values, cash surrender, average annual returns and standard death benefit. Hunsinger sold the securities in the account but never bothered to purchase the annuity.
"For years, the victims in this case believed that their son was investing money on their behalf," acting state Attorney General John Hoffman said in a statement. "Instead, he was siphoning their money for his own benefit."
Under the plea agreement, the state recommended that Hunsinger be sentenced to three to five years in state prison and that his insurance producer license be suspended for a period of five years. Hunsinger will also be required to pay back $1,354,496 to his parents. For his sheer lack of heart and morals, Hunsinger justly earns the number nine spot on our list.
All State Insurance
In July, Allstate sold its Lincoln Benefit Life to Resolution Life, a British financial services firm, for $600 million. With this move, Allstate essentially abandoned the consumer segment served by independent life insurance and annuities agencies. Allstate promoted the sale to Resolution Life Holdings as a benefit, as the firm estimated it would reduce required capital in Allstate Financial by approximately $1 billion.
Some in the industry, however, viewed it as a less-than-ethical maneuver, feeling as though Allstate sold off a perfectly good, profitable division to a company they knew would liquidate it instead of selling to a buyer who would keep it going. Many at Allstate believed Lincoln Benefit to be a great unit, and many of their people were bewildered at why Allstate would do this. One insider, who confided in National Underwriter off the record, felt that Allstate didn't have to handle it the way they did and that there were alternatives that would have prevented shuttering the division — and laying off employees in the process.
Allstate is not the only company that decided to ditch its life insurance unit in 2013. AXA SA sold its life insurance unit to Protective Life Corp. and Sun Life Financial sold its variable annuity business to Delaware Life Holdings. But for Allstate, the sale left employees and consumers wondering if current policies would be thrust into the spin cycle of new ownership every few years.
Florida Department of Health
In September, the Florida Department of Health blew the chance of calmly trying to bring order to the "Wild Exchange West" by sending out a memo telling local health department directors to keep exchange navigators away from county health department offices. Department officials first said the order went out because county health departments lack the space to provide the navigators with privacy-protecting private offices. But the reasons the department used to justify the memo seem to have evolved over time, while FlaglerLive and Health News Florida never found evidence the department had sent out similar memos concerning similar outreach efforts.
Whatever the true reasons for the memo were, it surfaced at an awkward time and seems to have encouraged the possibility of getting consumer groups to think harder about exchange consumer protection issues further into the future.
See also: State-based exchange status map
And, by the way, like Consumer Reports, which earned a mention in our Rogue's list by seeming to care too little about navigator standards, the Florida Department of Health was pretty quiet about the abrupt curtailment of PPACA Preexisting Condition Insurance Plan benefits earlier this year.
The message: Helping consumers fill out an exchange plan application in a county health department lobby is a terrible idea, and forcing a man who's about to get a liver transplant to find a new surgeon and accept a higher out-of-pocket spending maximum is quite the bore. 
Richard Allen Freer
Richard Allen Freer, of Palmer Township, Pennsylvania, was once the president of a local bank, and then a rep for Aviva before he struck out on his own as a financial advisor. But that all came crashing down when Northampton County District Attorney John Morganelli charged Freer with 272 different counts related to a Ponzi scheme he ran for the last 15 years, bilking 82 different clients — some of them friends — out of some $10 million.
One victim, Joan Curto, a widow whose 80-year-old husband died two years ago, said Freer attended her husband's viewing and visited her home the day he died — all while pocketing the money due to her. Curto has a few choice words for Freer, should she ever encounter him again: "What does it profit a man to gain the whole world, only to suffer the loss of his own soul?"
Local papers took Freer's case as cause to raise a skeptical eyebrow at the larger financial services industry, and to suggest that Ponzi schemes could be lurking behind any corner. Freer is currently being held in general population in Northampton County Prison, and DA Morganelli has made it clear that he hopes Freer will die there.
Freer is still innocent until proven guilty in a court of law, but it does not look good for him at the moment. His spot on this list is for the disrepute his actions have already brought upon all financial advisors; if he is convicted next year, he can expect a higher place on this list. And if he is found innocent? Then Morganelli gets his spot.
Ben Lawsky
Mr. Lawsky earns the number five spot for his lack of leadership at the helm of New York's Department of Financial Services (DFS). His department levied hundreds of millions of dollars in fines to various lawbreakers, and then watched the money all dump into the state's general treasury fund (read: Andrew Cuomo's Presidential Campaign war chest). Cuomo and Lawsky go way back and Cuomo has made clear his strong desire to run for president in 2016, while Lawsky is nothing short of a willing pawn in Cuomo's political passion. Many see Lawsky's aggressiveness as an attempt to undermine New York Attorney General Eric Schneiderman, Cuomo's successor.
All this while Lawsky allowed the structured settlement annuity holders from the Executive Life Insurance Company of New York debacle to endure unjust financial ruin while the state approved of the company's draconian liquidation plan. And has Lawsky held anyone at the New York Liquidation Bureau accountable? Of course not.
Meanwhile, remember Superstorm Sandy? According to one source, Lawsky failed to remove the department's records on insurers from the DFS's flood-prone office in lower Manhattan, so when the tides rushed in, the records were destroyed. When you can't be bothered to keep hundreds of innocent families from being destroyed financially, moving boxes of paper are probably low on the priority list, as well.
Rachel Abelson
In 2008, producer Glenn Neasham sold an annuity to 83-year-old Fran Schuber of Lake County, California, who was later revealed to be suffering from early stages of dementia at the time of the transaction. California law allows for annuities to be sold to clients as old as 85 and Schuber's annuity resulted in a $40,000 profit for his client. And as far as Neasham could tell, his client was lucid at the time of sale.
None of this prevented Lake County District Attorney Rachel Abelson from throwing the book at Neasham, however. He was arrested in 2010 and charged with a felony count of theft from an elderly individual. In 2011, he was sentenced to 90 days in jail with three years probation. His insurance license was revoked, his income fell to just $20,000 annually and his family lost their house and were forced to live off food stamps.
Neasham appealed the verdict and went free on bail pending that appeal, and ultimately, in October of this year, his charges were reversed. But it destroyed his practice, cost him a fortune in legal fees, and put him squarely in the "guilty until proven innocent" box. Abelson undoubtedly saw her actions as trying to protect Lake County's large elderly population. But destroying a man innocent of any crimes on incomplete evidence isn't the way to do it.
Ben Bernanke
Ben Bernanke's term as Federal Reserve chairman comes to an end January 2014. From the life insurance industry's perspective, his departure is long overdue.
As Fed chief, Bernanke presided over a long run of abysmally low interest rates and companies have found it increasingly difficult to make money on hedging strategies sufficient enough to make good on living benefit guarantees, most notably with variable annuities.
Result: Profit margins have suffered, forcing companies to revamp their products by offering less generous guarantees and/or charging more for them. In some cases, insurers have felt compelled to jettison once profitable business lines.
Witness the sale in October 2012 of The Hartford's individual life unit to Prudential Financial; SunLife's decision in December 2011 to halt sales of its domestic U.S. variable annuity and individual life products; and Genworth Financial's announcement last January that two of the carrier's units — Genworth Life Insurance Company and Genworth Life Insurance Company of New York — would stop accepting new applications for Genworth's multi-life and LTC Business Solutions programs.
To be sure, low interest rates aren't solely to blame for insurers' woes. Yet, life insurers and the analysts that track their financials consistently cite low interest rates as the chief macroeconomic threat to the businesses. And so Fed Chairman Bernanke has consistently drawn the industry's ire.
Many say the criticism is unjustified, believing the Fed's quantitative easing has effectively counteracted fiscal policy guided by a misplaced focus on reining in federal deficits. Point noted. But the fact remains that financial services companies will continue to be handicapped so long as interest rates remain artificially low. And for that, Mr. Bernanke remains a veteran Rogue.
John Boehner
The beleaguered Speaker of the House became the face for Republican opposition to Obamacare when the GOP took control of the House during the 2010 midterm elections. But what has he managed to accomplish since then, especially on behalf of those in the business community most angered by PPACA's passing? Not much.
The government shutdown in October, which has been an unmitigated disaster for Republican approval ratings and for their ability to collectively negotiate with the Obama administration, was the work of a Tea Party contingent Boehner proved powerless to wrangle. For those in the health insurance industry who stand opposed to PPACA, all Boehner did was convince people that PPACA was no longer a battle worth fighting, that the Republicans were a spent force, and that Democrats could already begin to look forward to 2016.
There are those who have suggested that Boehner hoped the Tea Party might exhaust itself fighting PPACA, and once spent, the rest of the GOP could get back to work advancing its priorities on other fronts. If so, that's a decent play to make, but a risky one. The Tea Party is a passion movement, uninterested in dealing itself in to the traditional Washingtonian power channels. Any deals made with them are done at the deal-maker's risk, which Boehner now knows only too well.
HealthCare.gov
There is no individual or organization that deserves the number one spot more than the federal health care exchange website HealthCare.gov. And we must note that President Obama, Department of Health and Human Services Secretary Kathleen Sebelius and Centers for Medicare and Medicaid Services Administrator Marilyn Tavenner also share in this infamous award.
Not long after the official Oct. 1 open enrollment date, those involved with the site — and users looking to sign up — began reporting problems. In fact, it was reported that only three in 10 applications started actually reached completion.
In late October, at a hearing organized to analyze the problems faced by the federal exchange, Officials of CGI and Optum/QSSI, two of the key vendors, admitted that months of end-to-end testing — not the days or last two weeks before launching — is the industry standard for a complex website being used to solicit applications for insurance policies.
The Republicans claimed that almost $175 million in funding was more than enough to build a successful site, while the Democrats claimed that Republicans sabotaged the site by pressuring states to refuse to build their own online marketplace, steering consumers instead to the federal one, which was not built for such a customer size. Then, as if bugs within the website weren't enough, the administration was faced with security issues involving the site, especially after reports surfaced of one applicant's personal information being shared with another applicant. The failed site drew so much criticism from consumers, politicians and even PPACA supporters that the chief information officer for the CMS, Tony Trenkle, resigned in November.
In essence, the administration is attempting to run the biggest startup in the world, without having anyone on board who has run a startup, let alone a business.
Source: LifeHealthPRO, Dec/02/2013.
More info: http://www.lifeandhealthinsurancenewsdigital.com/lifeandhealthinsurance/201312#pg1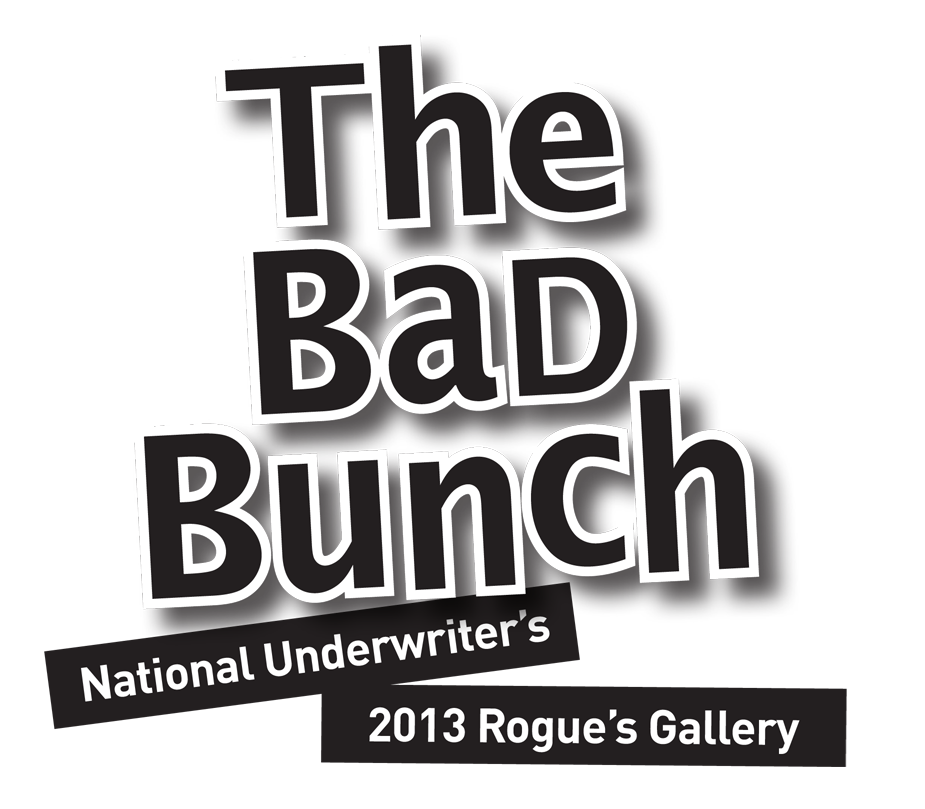 Tengo Algo Que Mostrarte...


Traído a ti por Marketing con Éxito